Not your average day on the road when a line of souped Dodge Vipers looks lame - but that's what two Ferrari 430's, a 360 Spider and throwback 355 will do to your standards.
The boss gave me the fast forward tour of Malibu Canyon roads, pun intended. We dove in up north off the 101 - only to emerge an hour and a half later 10 miles north of Malibu on the Pacific Coast Highway.
Not since the prime days of Mike Denny and his '98 Dodge Ram Sport have I looked for the "oh sh*t" handle to grip in a vehicle. To hell with 8 minute abs, buy a Ferrari and zip that puppy through some canyons - your core and forearms will feel it.
Not that my words ever depict a clear, concise message or image, but in this case pictures are key. Enjoy.
Screen shots of the GPS - Left is zoomed in shot, right covers the greater LA area
Dana's 360 Spider. Check please!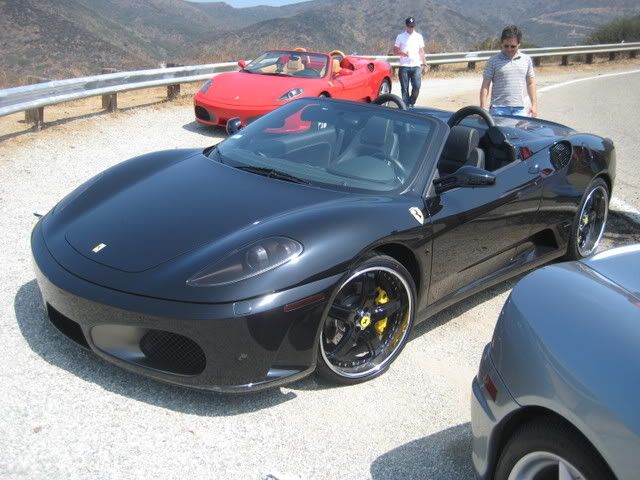 Black 430 followed by a red 430. Nothing like seeing the monetary equivalent of a three bedroom house in suburban America
pass
you at 160 mph
Yes, a left turn would be useful in the next 100 feet
And just to spice it up, a Lamborghini Gallardo. Love these guys.
While we're on the subject of high class vehicles that I will never own, my nearest and dearest leaky front right tire finally went kaput when I was
sniped by a marksman from Bosnia
. OR my sidewall was really old and worn out. Thanks, Colin, for warning me that would happen three years ago. I was really on the ball and took no chances by driving around on a cracked tire for 60,000 miles.