If a car leaves Los Angeles at 7:30am headed for San Diego and a train leaves Los Angeles at 11:15 am heading for San Diego which will arrive first? You need to know the speed of the train and car you say? No, no you don't. What you do need to know is that the car portion of this question ran into a bit of traffic. This wasn't your average "I hate the 405 and the lady in front of me" traffic. This was "You will move four miles in four hours and like it" traffic. That's what happens when your
semi bursts into flames and lights up a van just for kicks
.
Six and a half hours later we entered the Comi-Con zone - it was official when I saw two Storm Troopers walking an Ewok out of a Seven Eleven.
I wish I had more pictures, but I was assigned the roll of TMZ video camera guy. To suffice? A rundown of Trigger Street's wild and very successful day at the Con.
- Taping of AMC's
Shootout
with Peter Guber
- Interview with MTV News (pictured below, Kevin Spacey and Dana Brunetti)
- Tour ground zero - The Comi-Con floor
- Devils Due Publishing / Trigger Street panel to announce new Comic section on TriggerStreet.com
- Dinner and drinks
- Kevin presents at Star Wars awards
-
Screening of TS production of FANBOYS
- Take over Ivy Hotel bar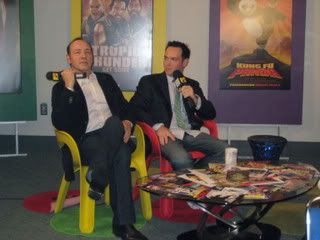 Great trip, not just for me, but for Trigger Street. I'll be putting together a highlight reel of our guerilla-style footage, look for it on our site.
And I feel the need for a Pet Peeve post coming soon - check back later this week.