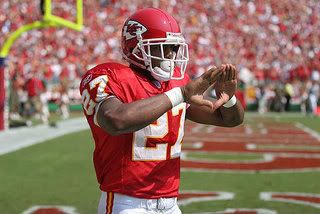 Make sure your local gang bangers get the memo - there will be no
communicating via hand signals
with your favorite NFL players. I'm sure the league's experts will do a stellar job in their identification of what's
appropriate and what's not
. Just a guess, but this process will be about as fair as
professional athlete altercations in Miami
.
I suppose after the Darrent Williams incident, the NFL PR mill was activated for show and tell purposes. Add this to a growing list of questionable, if not idiotic, restrictions in professional sports. The NBA
hates your iPod
, MLB does not care if
you're cold
, and aside from the gang signs, the NFL does not care for your
imaginary ass
being revealed.